The DVD/mpeg-2/VOB files (download) come from radioskip(at)aol•com, the source of most of the local NY stations' TV news coverage of 9/11/2001 a.m. seen on YouTube (thanks to ResidentPinto). WABC, WCBS, WNBC, WNYW, WPIX (WB11 at the time) and other recordings were done at radioskip's work which was usually to record commercials across networks (from what he told me).
Frames of Interest

(virtually identical in

CNN version

)

FRAME
EVENT
COMMENTS
001-011
No Plane
The plane has not yet entered the frame.
012-051
Plane Crosses
The original interlacing of upper and lower video fields distorts the plane into horizontal lines. The starboard engine creates the illusion of a raised cockpit area.
054-059
Cross-fade
Camera angle change begins 5 frames before the blackout/interference. New angle from Brooklyn fades in-- not seen in national ABC Good Morning America broadcast.
060-072
Interference
Blackout completes after 2 frames of lines fading to black. Static Brooklyn camera blacks out, not Chopper880, which crossfades out by station control. Then 4 frames of black w/ station ID, then 3 more frames of black with spots of WTC during which frame 66 has no station ID logo and 67-68 the logo is split in lines. Then interference/ghosting/color issue with full picture in 69-72. Watch replays of the Brooklyn cam footage at the 2nd WTC Attack, missed page.
085-153
WTC 1 Smoke
The tower that was not hit begins to belch smoke. WTC 2 impact becomes apparent... fireball begins.
154+
Return to Chopper
Cross-fade back to Chopper880— the explosion.
To see the controversy
surrounding this video, go to the
WNYW Chopper5 page
.
Another version of the WABC footage is available from a VCR recording that spans the entire day, in excerpts. Notice the same visual effect, but the sound is completely lost when the plane hits. After loud static for 7 seconds, audio feed returns. It remains for 34 seconds, then loud static takes over again until the recording skips ahead in time.

The WABC shot is also known as the International Shot. Newly discovered eyewitness testimony shows Chopper 880 for WCBS-AM radio simultaneously broadcast the famous plane crash video... on ABC, CNN, Fox News, and BBC. NewsCopter7 didn't air live footage until 9:08, upon finally arriving from the Linden, NJ airport 14 miles away. That camera powered on at the moment of explosion. To see the rarely aired footage and more, visit the 2nd WTC Attack, missed collection.
WTC Crash LIVE Chopper880, WABC HQ FLV
Get flash to see this player
2nd Hit Camera Angle Change
"On the roof"
David Mulewski, Engineering Supervisor, WABC-TV, New York

"I immediately put more tapes in the machine. I rolled (recorded) extra copies. I knew this was going to be a big story. I got on the internal house paging system and announced to the newsroom that everyone needed to turn his or her attention to the helicopter shot. I called ABC's affiliate feed service, 'NewsOne,' and told them to roll on my chopper shot, as well. I ran to the control room to see the other live shots around the city. I looked at the shot from our mounted camera in Brooklyn and saw the towers and the smoke. I zoomed in and focused the camera tight on the first tower. I called our chief engineer, Bill Beam, to tell him what I was seeing, because I knew our transmitter operator, Don DiFranco, was on the roof of that building [WTC 1 floor 110]. Beam said they were trying to call him."
Covering Catastrophe: Broadcast Journalists Report September 11, (2002, Bonus Books) p. 26.
The static Brooklyn camera is a remote joystick-operated camera. Less than a minute before the 2nd hit is when the jerky adjustment is made to the camera angle.

The coverage cuts to "NewsCopter7" (Chopper880), and remains there for the nationally broadcast footage. For ABC7 NY and CNN, however, the 2nd plane hit is seemingly synchronized with a cross-fade to that extreme closeup on the North Tower. An earlier view is from the same camera angle, before the full zoom (see image above).

It is the opening shot of ABC7's 9/11 coverage. See the angle partially zoomed at 9:01 am. Then compare with an enlarged portion of the wide shot of Manhattan seen above.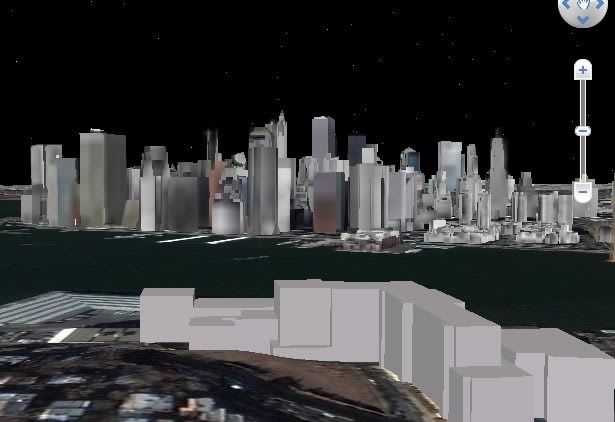 Here is Google Earth matched with the 8:51 am opening wide shot. I determined the building to be in Brooklyn Heights at 140 Cadman Plaza W, at Middagh, Henry and Prospect Street(s). See the building on emporis.com and wikimapia.org or at intech21.com FYI.

This untimely camera switch seems (to some people) to show involvement of the MSM (mainstream media), or some more powerful entity. That is, especially when considering NBC (archive, not NBC4 LIVE) switched camera angles the same way, although a couple seconds sooner. So did CBS, a few seconds sooner.

Could this have been a coincidence-- 3 independent decisions in 3 different broadcast centers to change camera angles within seconds of each other-- all 3 to a closeup of the North Tower? Maybe it was an emergency broadcast system-type interruption set up from afar-- insurance in case something went wrong at impact (knowing the videos could and would be censored later). Showing the plane apparently wasn't a problem. It was the impact/explosion, if anything, that caused the reluctance in showing the plane's interaction with the south face and northeast corner of Tower 2.

Following this scenario we have 2 options:
1. Nothing went wrong at impact. Coincidence. There was nothing to hide.
2. Careful recording of the incident. Extreme case: mistakes or problems were apparent... giving rise to many video fakery claims that could or may not have any bearing.
3. ?

So, which was it? To what extent? Evidence for (2) comes in the form of:
• the Naudet film cut frames during the 2nd hit sequence.
• The FOX archive seems to have been edited to replace the infamous WNYW clip (at least the video, not the audio -- maybe due to a copyright issue). Granted, the issues raised with the Chopper 5 footage have been argued to death.
• An NYPD helicopter crew is reluctant to tell its story. See HBO and Israeli news footage while listening to Shure's interview of pilot Timothy Hayes.

At the very least, the 2nd plane impact is suspicious and worthy of intense scrutiny.
911conspiracy.tv
- Since 9 Feb. 2008
Disclaimer
Fair Use Notice: This site may contain copyrighted material the use of which has not always been specifically authorized by the copyright owner. Users may make such material available in an effort to advance awareness and understanding of issues relating to civil rights, economics, individual rights, international affairs, liberty, science and technology, etc. We believe this constitutes a "fair use" of any such copyrighted material as provided for in section 107 of the US Copyright Law. In accordance with Title 17 U.S.C. Section 107, the material on this site is distributed without profit to those who have expressed a prior interest in receiving the included information for research and educational purposes. For more information please visit: http://www.law.cornell.edu/uscode/17/107.shtml .